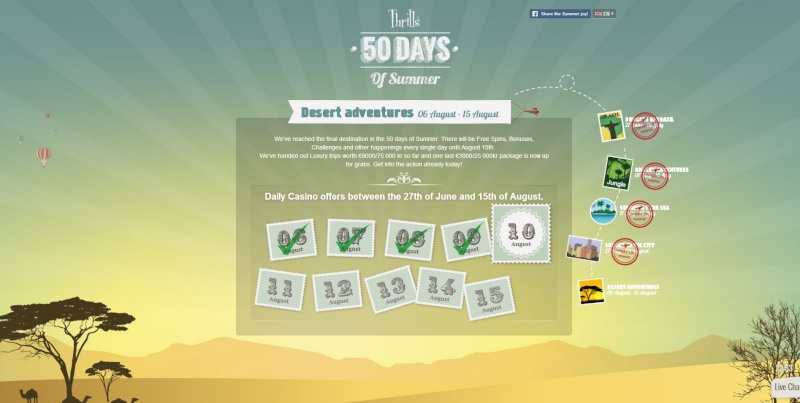 Thrills Casino are running their last days of 50 Days of Summer Promotion. They are now doing the last promotion for this time around called Desert Adventures which also gives you plenty of nice offers to cheer about.

We've reached the final destination in the 50 days of Summer. There will be Free Spins, Bonuses, Challenges and other happenings every single day until August 15th.

We've handed out Luxury trips worth €9000/75 000 kr so far and one last €3000/25 000kr package is now up for grabs. Get into the action already today!

Daily Casino offers between the 27th of June and 15th of August.

Go straight to Thrills 50 Days of Summer Calendar
HERE
Thrills Casino 50 Days of Summer - Day 45 – Sunday 5th August  - Deposit & get 50 Free Spins!
There's still 5 days left to go on the Bonus-O-Metre challenge where you could become the lucky player to win a €3000 dream vacation.

Deposit a total of €50 or more and play during the day to get 50 Free Spins without any wagering requirements.

The total amount of all deposits you make during the day counts and your Free Spins will be available on Elements or EggOMatic tomorrow at 13:00 CET.
Thrills Casino 50 Days of Summer - Day 46 - Monday 11th August - Get 50 Free Spins!

There's still time for you to secure your raffle ticket to the €3000/ 25 000 kr dream vacation raffle by achieving 25 bonus rounds on Elements or EggOMatic before midnight on Friday.

Today you have an extra cherry on top since we also reward you with up to50 Free Spins by getting in to the bonus round of either Elements or EggOMatic.

Get into the bonus round 3 times and get 25 Free Spins
Get into the bonus round 5 times and get 50 Free Spins.
Buckle up and get started buddy - A vacation of a lifetime and 50 Free Spins awaits!

Your Free Spins are credited tomorrow at 13.00 CET, and as always your winnings from Free Spins are without wagering requirements or other mumbo jumbo.


This offer is valid until 11th of August, 23:59 CET.
No wagering on your Free Spins winnings.
Maximum amount of Free Spins to be received is 50.
Minimum bet stake €1.
Only bets made on Site (not phone) is eligible.
Read our general bonus Terms and Conditions



Last edited by Admin on 12th August 2014, 00:16; edited 1 time in total
Thrills Casino 50 Days of Summer - Day 47 - Tuesday 12th August - 30% up to €30!

Top up your account with €100 today and we'll give you €130 in total to play for! All you have to do is select the bonus "Tuesday 30% extra" and it's all yours.

Have fun and remember to drink a lot of water and keep calm even during the most exciting Bonus Rounds!

Enjoy!


The bonus is available until 12th of August, 23:59 CET.
You need to wager your bonus 35 times the bonus amount before you can withdraw the bonus or any winnings gained from bets placed with your bonus money.
Read our general bonus Terms and Conditions



Thrills Casino 50 Days of Summer - Day 48 – Wednesday 13th August - Deposit & get 50 Free Spins!!

A hot Summer Sunday can easily take the the best out of anyone, so let's spice things up with some proper Free Spins!

Deposit a total of €50 or more and play during the day to get 50 Free Spins without any wagering requirements.

The total amount of all deposits you make during the day counts and your Free Spins will be available on Elements or EggOMatic tomorrow at 13:00 CET.

This offer is valid until the 13th of August, 23:59 CET.
All deposits within the promotional period needs to be wagered at least once to count towards the promotion.
The maximum number of Free Spins that can be claimed in this promotion is 50.
The Free Spins are credited on the following day of deposit.
There are no wagering requirements on the Free Spin winnings.
Read our general bonus Terms and Conditions



Thrills Casino 50 Days of Summer - Day 49 – Thursday 14th August - Mystery gift around the corner!

The end of the Desert adventure is closing in fast. But before we move on to even bigger and better things at Thrills we want to give you a sweet surprise gift!

Deposit and play as much as you feel like today and we'll give you a nice mystery gift tomorrow. The more you deposit the more good stuff your mystery gift will include.

All deposits you make during the day counts, so best of luck and remember to have fun out there on your adventure!

A deposit has to be made to get tomorrows Mystery Gift.
You will find all Terms in tomorrows calendar door



Thrills Casino 50 Days of Summer - Day 50 – Friday 15th August - 10 Free Spins!!

The last day of the Bonus-O-Metre challenge is here. We've already handed out a total of €9 000 worth of Dream Vacations and the last €3 000 package is still up for grabs!

To aid you in the hunt for your Dream vacation we've added 10 Free Spins on your account available all day on either Elements or EggOMatic!

You got until midnight to qualify, don't miss out!

Free Spins are available on the 15th of August until 23:59 CET.
There is no wagering on Free Spins winnings.
Read our general bonus Terms and Conditions




Similar topics
---
Permissions in this forum:
You
cannot
reply to topics in this forum